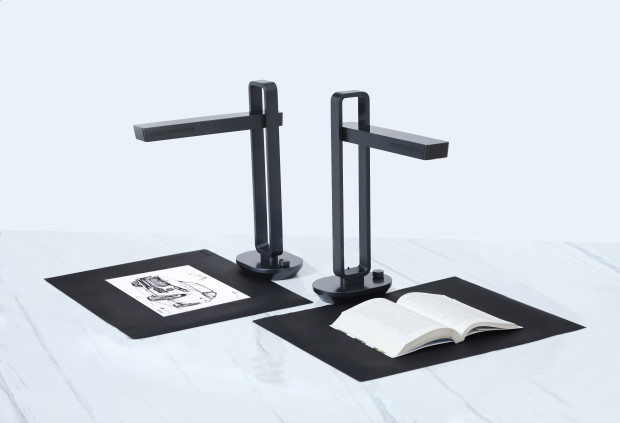 UPDATE: Numerous delays but the ship containing my unit will arrive in LA by the end of May and presumably I will have the scanner in early June 2019.
Although I no longer have the need I once did, I continue to be fascinated by inexpensive, non-destructive approaches to book scanning. On paper at least (no pun intended), the Czur Aura scanner looks like a viable solution. It is still a crowd funding project, but 50x the amount needed has been raised, and shipping is projected for December 2018.
According to the website, the scanner will:
* Digitize books without unbinding them;
* Convert them to PDF, editable Word (2.5sec/page);
* Scan a wide range of documents and objects up to A3 size (i.e., what the US calls tabloid);
* Double as a versatile lamp with 4 light settings.
The company estimates that a 300 page book can be scanned in 30 minutes if saved as jpeg images. (There is foot operated button included for speeding up the process.)
You can buy the scanner at the moment for $179 (shipping extra). A battery powered version is $30 more for those wanting to take this portable device to libraries and other locations.
Lots of information can be found at
https://www.indiegogo.com/projects/aura-speeds-simplifies-all-your-scanning-needs#/
I have ordered the scanner and will report back on the results of scanning pages in the Blue Volume One as well as other philatelic materials.